Ingredients
Slaw:
3/4 cup Wonderful Pistachios No Shells Lightly Salted, coarsely chopped
4 cups shredded carrots
1/2 cup packed fresh cilantro, chopped
Dressing:
2 tablespoons white wine vinegar
2 tablespoons extra-virgin olive oil
1/4 teaspoon sea salt
1/4 teaspoon freshly ground black pepper
Method
In a large bowl, toss the carrots and cilantro.
In a small bowl, whisk the vinegar, olive oil, salt, and pepper. Pour into the carrots and mix well. Taste and adjust seasoning to your taste.
In a dry pan, toast the Wonderful Pistachios over medium heat for 1 minute. Toss the pistachios into the salad right before serving.
In this recipe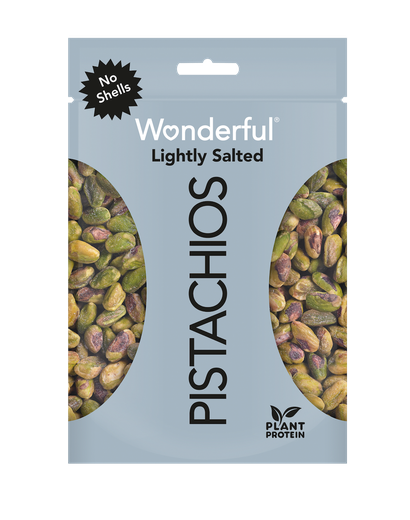 Wonderful Pistachios No Shells Lightly Salted are easy on the salt*, and even easier to enjoy.
Learn more
Nutrition
Serving size: 67g
Calories per serving: 160
Total Fat 13g
Saturated Fat 1.5g
Trans Fat 0g
Cholesterol 0mg
Sodium 200mg
Total Carbohydrate 9g
Dietary Fiber 3g
Total Sugars 3g
Includes 0g Added Sugars
Protein 4g
Vitamin D 0mcg
Calcium 29mg
Iron 1mg
Potassium 180mg
Dietary needs
In-store and Online
FIND PISTACHIOS
With a wide range of flavors and styles, there's a Wonderful® Pistachios product for every taste bud and occasion.