Ingredients
1/2 cup Wonderful Pistachios No Shells Roasted & Salted, chopped
2 tablespoons POM Wonderful 100% Pomegranate Juice
4 large sweet potatoes, well-scrubbed and cut into 1" thick wedges
4 tablespoons olive oil
1-1/2 teaspoons salt
1/4 teaspoon ground pepper
4 oz. goat cheese
2 tablespoons honey
Method
Preheat oven to 425°F and line two baking sheets with aluminum foil.
Toss sweet potato wedges with olive oil, salt, and pepper, mixing thoroughly. Transfer the wedges to the baking sheets, making sure they are spaced evenly.
Bake for 15 minutes. Stir wedges and rotate pans. Bake another 10 minutes until cooked through and caramelized. Remove from the oven.
Combine the honey and POM Wonderful pomegranate juice. Heat for 30 seconds in the microwave and stir. Arrange the sweet potatoes on a platter and scatter the Wonderful Pistachios and goat cheese over them. Drizzle the pomegranate glaze over all. Serve.
In this recipe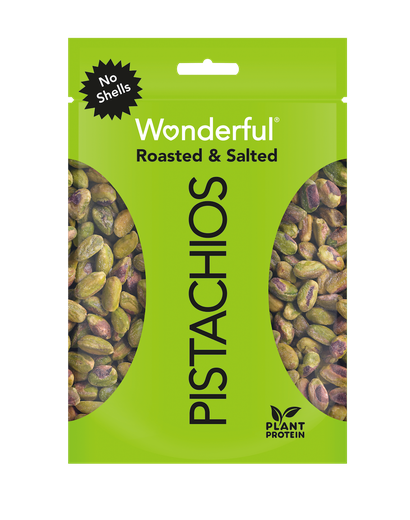 No Shells
Roasted & Salted
For a good source of plant protein without any of the work, grab a bag of No Shells. Get Snackin' TM.
Learn more
Nutrition
Serving size: 120g
Calories per serving: 240
Total Fat 14g
Saturated Fat 4g
Trans Fat 0g
Cholesterol 10mg
Sodium 580mg
Total Carbohydrate 24g
Dietary Fiber 3g
Total Sugars 9g
Includes 4g Added Sugars
Protein 6g
Vitamin D 0mcg
Calcium 96mg
Iron 1mg
Potassium 380mg
Dietary needs
In-store and Online
FIND PISTACHIOS
With a wide range of flavors and styles, there's a Wonderful® Pistachios product for every taste bud and occasion.