Appetizers
Savory Vegan Wonderful Pistachios Cheese Bites
These plant-based cheese bites combine the savory crunch of Wonderful Pistachios with the creaminess of vegan cheese. Wonderful Pistachios is a complete protein, making these bites great on a protein-powered snack board, or on their own anytime.
Cook time

Total time

Calories*

Serves
Ingredients
1 cup Wonderful Pistachios In-Shell No Salt pistachios, shelled (about 1/2 cup of pistachio kernels)
1/2 cup raw cashews
1-1/2 tablespoons minced garlic
1/2 lemon, zested
2 tablespoons lemon juice
1/4 cup plus 2 tablespoons water
1 tablespoon nutritional yeast
1/4 teaspoon sea salt or kosher salt
1 tablespoon olive oil
50 grapes
1 heaping cup Wonderful Pistachios No Shells Lightly Salted, crushed
Method
Place the No Salt pistachios and cashews in a food-safe container and cover with cold water by 2" to 3". Put the lid on the container and move it to the refrigerator to soak for a minimum of 12 hours (maximum of 36 hours).
Drain nuts, discard the soaking water, and transfer to a food processor along with the garlic, lemon zest, lemon juice, water, nutritional yeast, salt, and olive oil. Process until very creamy and smooth, scraping down sides. Adjust seasoning to taste.
Line a fine mesh strainer with two layers of cheesecloth and place over a bowl. Scoop all the pureed nut mixture into the cheesecloth and twist to secure. Place in the refrigerator overnight (or at least 6 hours) to set.
Cheese will keep up to five days in the refrigerator or 30 days in the freezer.
Serving suggestion: Wrap chilled cheese around a grape and roll in crushed Wonderful Pistachios No Shells Lightly Salted. Place on a toothpick and enjoy! NOTE: You will need about 1 teaspoon cheese for each grape and about 1 teaspoon crushed pistachios to cover the cheese.
In this recipe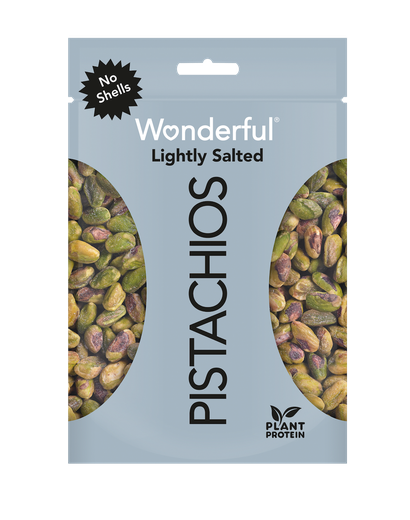 Wonderful Pistachios No Shells Lightly Salted are easy on the salt*, and even easier to enjoy.
Learn more
Nutrition
Serving size: 15g
Calories per serving: 40
Total Fat 3g
Saturated Fat 0g
Trans Fat 0g
Cholesterol 0mg
Sodium 25mg
Total Carbohydrate 3g
Dietary Fiber 1g
Total Sugars 1g
Includes 0g Added Sugars
Protein 1g
Vitamin D 0mcg
Calcium 7mg
Iron 0mg
Potassium 70mg
Dietary needs
In-store and Online
FIND PISTACHIOS
With a wide range of flavors and styles, there's a Wonderful® Pistachios product for every taste bud and occasion.