Desserts
Vegan Dark Chocolate and Wonderful Pistachios Layered Pudding
Say yes to chocolate! This chocolatey pudding includes banana for just enough sweetness, naturally. By layering it in fun glasses with pistachios, it becomes a treat with bonus nutrition. Try champagne flutes for dessert, or juice glasses for snack time.
Cook time

Total time

Calories*

Serves
Ingredients
1/2 cup Wonderful Pistachios No Shells Lightly Salted
1/2 teaspoon grated zest from Wonderful Halos mandarin (or orange)
2 large fully ripened Hass avocados, pitted, peeled, and cubed
3/4 cup fully ripened banana, mashed (approximately 2 medium bananas)
1/4 cup unsweetened cocoa powder
3/4 teaspoon pure vanilla extract
1/4 teaspoon sea salt
Pinch of ground cinnamon
Method
Add the avocados, banana, cocoa powder, vanilla extract, salt, and cinnamon to a food processor. Cover and puree on high speed until velvety smooth, about 3 minutes, scraping down the sides as needed. (Hint: Ideally, transfer to a container, cover, and chill for at least 1 hour to allow flavors to mingle.) Makes 2 cups pudding.
Layer as desired the chocolate pudding and Wonderful Pistachios into four champagne flutes or small juice glasses. (Hint: Use a pastry bag, if possible.) Sprinkle with zest and serve.
In this recipe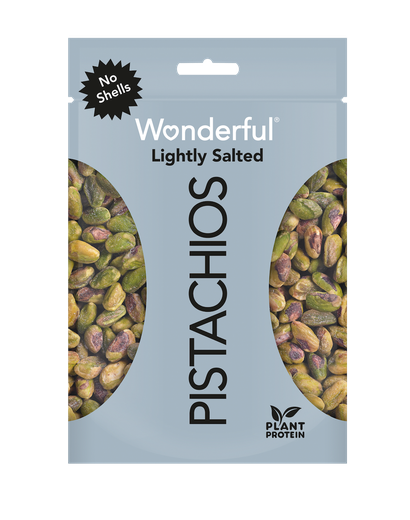 Wonderful Pistachios No Shells Lightly Salted are easy on the salt*, and even easier to enjoy.
Learn more
Nutrition
Serving size: 145g
Calories per serving: 260
Total Fat 20g
Saturated Fat 3g
Trans Fat 0g
Cholesterol 0mg
Sodium 190mg
Total Carbohydrate 24g
Dietary Fiber 10g
Total Sugars 7g
Includes 0g Added Sugars
Protein 6g
Vitamin D 0mcg
Calcium 35mg
Iron 2mg
Potassium 790mg
Dietary needs
Vegan
In-store and Online
FIND PISTACHIOS
With a wide range of flavors and styles, there's a Wonderful® Pistachios product for every taste bud and occasion.