Ingredients
1-3/4 cups Wonderful Pistachios No Shells Roasted & Salted (approximately 3-1/2 cups in-shell)
1 4-lb. pork loin roast
1 cup packed flat-leaf parsley
2 garlic cloves
1 tablespoon olive oil
1 cup dried apricots, chopped
1-1/4 teaspoons kosher salt
1-1/4 teaspoons ground coriander
3 small onions, quartered
6 sprigs of thyme
1 cup apple cider
Method
Preheat oven to 450°F and set aside roasting pan.
Butterfly pork loin by slicing in half within 1" of one edge and fold open. Lay 5 lengths of cooking twine under the open pork loin evenly spaced. This will help you tie it up once you fill the loin.
Combine Wonderful Pistachios, parsley, garlic, and olive oil in a food processor. Pulse until coarsely chopped, add apricots, and then pulse once or twice to chop and mix together.
Spread the filling evenly over the butterflied pork loin. Fold pork loin back over with filling in the center, using cooking twine to tie the loin together. Mix salt and coriander together and rub all over the loin.
Place tied pork loin in a roasting pan, then scatter quartered onions and sprigs of thyme around the pan. Roast in oven for 30 minutes. Add cider to the pan and lower oven temperature to 350°F. Roast another 50 to 55 minutes until internal temperature registers 150°F on a meat thermometer.
Remove roast from oven and let rest for 20 minutes. Pour any pan juices over roast, and garnish with roasted onions and more chopped Wonderful Pistachios to serve.
In this recipe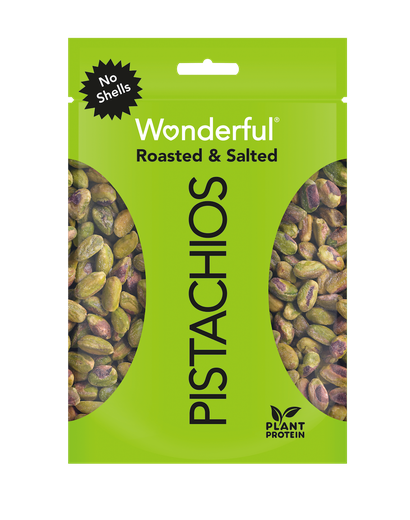 No Shells
Roasted & Salted
For a good source of plant protein without any of the work, grab a bag of No Shells. Get Snackin' TM.
Learn more
Nutrition
Serving size: 221g
Calories per serving: 440
Total Fat 21g
Saturated Fat 5g
Trans Fat 0g
Cholesterol 110mg
Sodium 430mg
Total Carbohydrate 20g
Dietary Fiber 4g
Total Sugars 12g
Includes 0g Added Sugars
Protein 45g
Vitamin D 1mcg
Calcium 65mg
Iron 3mg
Potassium 985mg
Dietary needs
Gluten-Free
In-store and Online
FIND PISTACHIOS
With a wide range of flavors and styles, there's a Wonderful® Pistachios product for every taste bud and occasion.