Ingredients
3/4 cup Wonderful Pistachios No Shells Roasted & Salted, roughly chopped
1 tablespoon extra-virgin olive oil
1 cup sweet onion, diced
3 garlic cloves, minced
1 14.5-oz. can diced tomatoes
1 14.5-oz. can stewed tomatoes
4 oz. vegetable juice
2 cups reduced-sodium chicken broth
1 4-oz. can diced green chiles
1-1/2 teaspoons paprika
1/2 teaspoon ground pepper
1/8 teaspoon chipotle powder
1/8 teaspoon seasoned salt
1 ripe avocado, halved and sliced, plus 1/2 avocado for garnish
1/2 cup fresh cilantro, chopped
3 tablespoons fresh lime juice
Method
Heat oil in a large pot over medium heat. Add onion, stirring frequently until translucent, about 5 minutes. Add garlic and cook for about 1 minute.
Stir in diced tomatoes, stewed tomatoes, vegetable juice, chicken broth, green chile, Wonderful Pistachios, paprika, pepper, chipotle, and seasoned salt. Increase heat to medium-high and bring soup to a boil. Allow soup to simmer for about 10 minutes.
Add avocado, cilantro, and lime juice to soup and stir all ingredients to combine.
Remove soup from heat and allow to cool for about 5 minutes. With a handheld immersion blender, carefully puree soup to desired consistency. *
Serve and garnish with additional cilantro and sliced avocado.
Quick tip
* If you do not have an immersion blender, carefully transfer soup to a blender or food processor to puree ingredients. Add pureed soup back into the pot and serve as directed.
In this recipe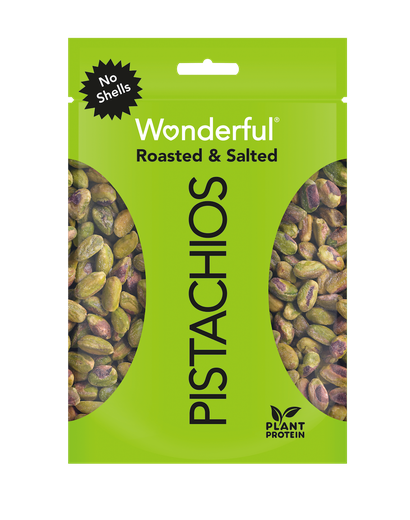 No Shells
Roasted & Salted
For a good source of plant protein without any of the work, grab a bag of No Shells. Get Snackin' TM.
Learn more
Nutrition
Serving size: 209g
Calories per serving: 140
Total Fat 9g
Saturated Fat 1g
Trans Fat 0g
Cholesterol 0mg
Sodium 350mg
Total Carbohydrate 12g
Dietary Fiber 4g
Total Sugars 6g
Includes 1g Added Sugars
Protein 4g
Vitamin D 0mcg
Calcium 29mg
Iron 1mg
Potassium 430mg
Dietary needs
Gluten-Free
In-store and Online
FIND PISTACHIOS
With a wide range of flavors and styles, there's a Wonderful® Pistachios product for every taste bud and occasion.