Ingredients
1 cup Wonderful Pistachios No Shells Roasted & Salted
1 lb. chicken tenders
1/2 cup grated Parmesan cheese
2 tablespoons chopped fresh thyme leaves
1 tablespoon chopped fresh rosemary leaves
1/2 cup coconut flour
1/4 teaspoon freshly ground black pepper
2 eggs
Method
Preheat oven to 350°F and set aside baking sheet.
In a blender, pulse Wonderful Pistachios a few times, until ground into a coarse powder. Add the Parmesan cheese, thyme, and rosemary and pulse again until it is finely chopped. Transfer the mixture to a plate.
In a bowl, mix the coconut flour, salt, and pepper. In another bowl, beat the eggs.
Dip the chicken tenders in the flour and roll to coat. Dip the chicken in the eggs, shaking off any excess. Roll in the pistachio-Parmesan mixture and place on the baking sheet. Repeat with all the chicken.
Bake for 20 to 25 minutes, flipping once about halfway through, until browned and cooked through.
In this recipe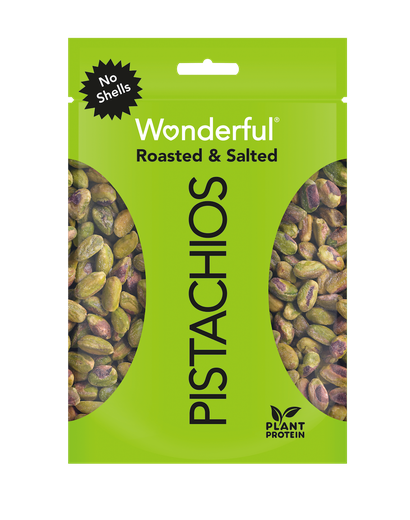 No Shells
Roasted & Salted
For a good source of plant protein without any of the work, grab a bag of No Shells. Get Snackin' TM.
Learn more
Nutrition
Serving size: 195g
Calories per serving: 440
Total Fat 23g
Saturated Fat 6g
Trans Fat 0g
Cholesterol 165mg
Sodium 430mg
Total Carbohydrate 19g
Dietary Fiber 9g
Total Sugars 5g
Includes 2g Added Sugars
Protein 41g
Vitamin D 1mcg
Calcium 138mg
Iron 4g
Potassium 370mg
Dietary needs
Gluten-Free
In-store and Online
FIND PISTACHIOS
With a wide range of flavors and styles, there's a Wonderful® Pistachios product for every taste bud and occasion.