Ingredients
1/4 cup Wonderful Pistachios No Shells Lightly Salted, roughly chopped, plus 1 teaspoon for garnish
1 cup strawberries, plus 2 whole strawberries for garnish
1 cup plain Greek yogurt
1-1/2 tablespoons fresh orange juice
1/8 teaspoon orange zest
1 tablespoon honey
Method
Add 1 cup strawberries into food processor and pulse to desired consistency.
Add yogurt, Wonderful Pistachios, orange juice, orange zest, and honey to the strawberries and pulse until smooth.
Divide yogurt into two dishes. Garnish each with a strawberry and 1/2 teaspoon of crushed Wonderful Pistachios.
In this recipe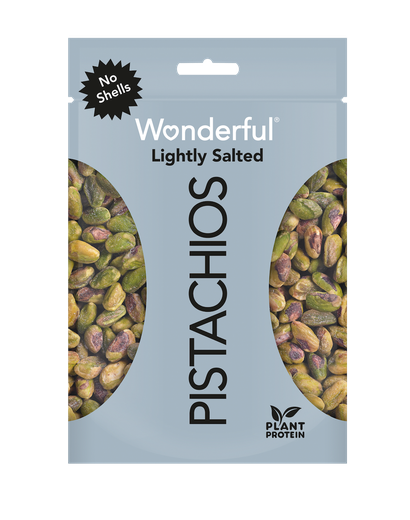 Wonderful Pistachios No Shells Lightly Salted are easy on the salt*, and even easier to enjoy.
Learn more
Nutrition
Serving size: 318g
Calories per serving: 370
Total Fat 14g
Saturated Fat 4g
Trans Fat 0g
Cholesterol 15mg
Sodium 115mg
Total Carbohydrate 50g
Dietary Fiber 5g
Total Sugars 40g
Includes 26g Added Sugars
Protein 16g
Vitamin D 0mcg
Calcium 169mg
Iron 2mg
Potassium 570mg
Dietary needs
In-store and Online
FIND PISTACHIOS
With a wide range of flavors and styles, there's a Wonderful® Pistachios product for every taste bud and occasion.