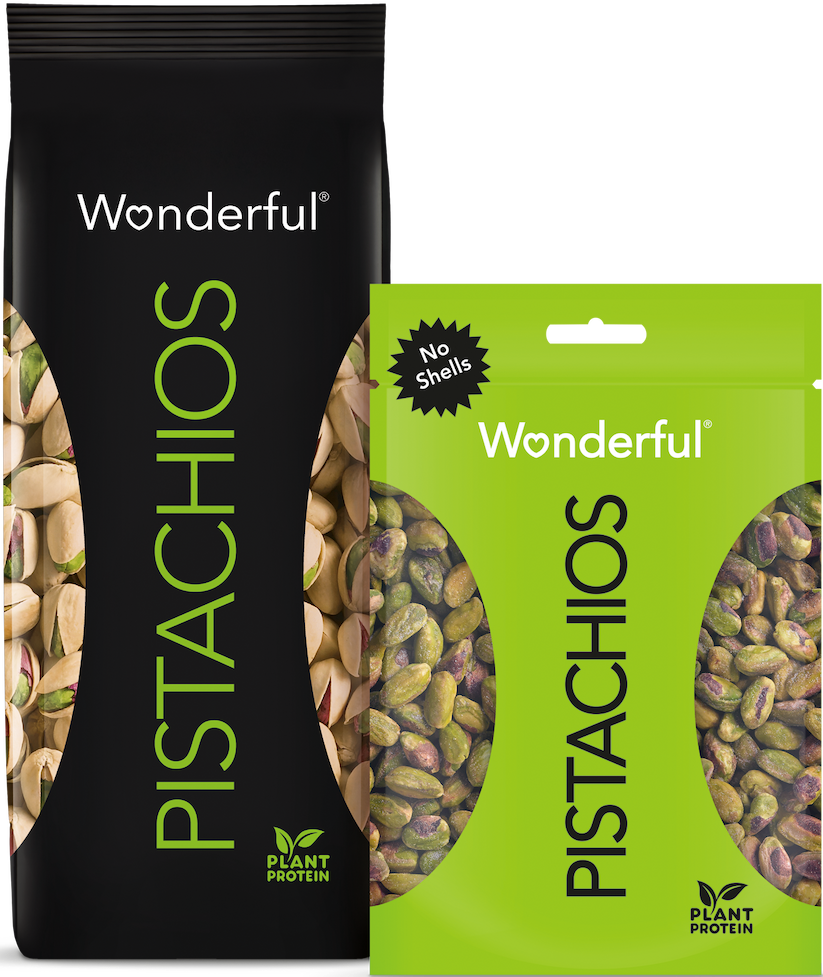 Wonderful® Pistachios Blog
Wonderful Pistachios Pairings
WONDERFUL PISTACHIOS + TRENDY FLAVORS + COOL BEVERAGE = SIX DELICIOUS WAYS TO ENJOY
Snacking is all the rage, and nothing snacks better than Wonderful Pistachios. Grown in California, Wonderful Pistachios are sun-ripened and dry roasted to meet the highest quality standards of food aficionados. Pistachios are one of the lowest-calorie, lowest-fat and among the highest-fiber nuts, offering a variety of vitamins, minerals and beneficial phytonutrients.
And, just in time for your next party, small gathering, or me-time everyday snack, try Wonderful Pistachios in any one of the following six unique pistachio pairings that will elevate the buttery, creamy, one-of-a-kind taste of pistachios to a whole new level. You'll find each individual flavor in these delicious pairings to be entirely distinct, yet enhanced when enjoyed together. So, go ahead – take a crack at these craveable combos:
---
Wonderful Pistachios + Mini Chocolate Chip Cookies + Fresh Strawberries + Iced Latte or Glass of Milk

Kids love salty, nutty fun-to-eat pistachios and combined with the sweetness of a chocolate chip cookie and fruity strawberry, this combo is the perfect all-American classic mix of sweet and savory. Serve as a kid-pleasing after-school treat or share with colleagues during an afternoon work break. The break room never had it so good!
How to serve: Set a bowl of Wonderful Pistachios on a platter surrounded with cookies and whole, fresh strawberries.
---
Wonderful Pistachios + Chinese Sesame Noodle Sticks + Wasabi Peas + Asian Beer or Iced Green Tea
Take the savory-nutty flavor of Wonderful Pistachios up a notch with the spicy kick of wasabi peas and the salty crunch of sesame noodle sticks in this trinity of contrasting flavors and textures. Pair with a crisp, refreshing Asian beer to chill out this uber-hot, uber-cool flavor pairing.
How to serve: Fill a trio of serving bowls with Wonderful Pistachios, wasabi peas and sesame noodle sticks…then, get ready to crack and crunch!
---
Wonderful Pistachios + Lime Tortilla Chips + Watermelon Chunks Sprinkled with Chili-Lime Salt + Margarita or Fizzy Limeade

A pop of color; a pop of flavor. See how crunchy pistachios pop in Latin flavor combinations as they deliciously mix and mingle with the tart crunch of lime tortilla chips and the cool taste of refreshing watermelon lightly dusted with chili-lime salt. The spicy-sweet notes make for a can't-get-enough combination. Accompany with margaritas on the rocks or fizzy limeade, and your fiesta will be popping in no time.
How to serve: Fill colorful bowls with Wonderful Pistachios, chunks of fresh watermelon sprinkled with Mexican chili-lime salt, and lime tortilla chips. Try nestling the watermelon serving bowl in ice to keep the melon chilly and the presentation cool!
---
Wonderful Pistachios + Cured Olive & Salami Skewer + Rosemary Parmesan Popcorn + Chianti or Chilled Pomegranate Soda

The subtle earthiness of pistachios really ignites when paired with its Mediterranean counterparts, rosemary-parmesan popcorn and olive-salami skewers, rounding out this savory snack trio.
How to serve: Fill two bowls – one with Wonderful Pistachios and the other with popcorn tossed with a splash extra-virgin olive oil; minced fresh rosemary and grated parmesan. Skewer oil-cured pitted olives with slices of artisanal salami and serve on a small platter alongside pistachios and popcorn.
---
Wonderful Pistachios + Aged Gouda + Gala Apple Wedges Drizzled with Lavender Honey + Cold Ginger Beer or Cold Ginger Ale

Yum, yum, yum. A hint of salted, dry-roasted pistachios counterbalances the caramel-like sweetness of aged Gouda blend to blend naturally with the crisp juiciness of Gala apples. Lavender honey adds a fragrant sweetness to this pairing and accents the salty crunch of the pistachio to make it the star of the show.
How to serve: Thinly slice Gala apples and arrange on a platter; drizzle with local lavender honey and serve alongside chunks of aged Gouda and bowls brimming with Wonderful Pistachios.
---
Wonderful Pistachios + Chevre Cheese Balls Rolled in Poppy Seeds + Dried Apricots + Greyhound or Grapefruit Soda

Your guests will be raving about this pairing, so don't be surprised to see this flavorful combo at their next party. The creamy texture and buttery flavor of pistachios meld with the subtle goodness of Chevre cheese, an ideal contact to the sweet dried apricots. The bright, citrusy flavors of the grapefruit beverage offer the perfect pairing to the creamy goat cheese and chewy, tasty apricots.
How to serve: Roll soft Chevre cheese into marble-sized balls then coat in poppy seeds. Fill a bowl with Wonderful Pistachios and place in the center of a platter surrounded with the cheese balls and apricots.