Ingredients
1/2 cup Wonderful Pistachios No Shells Roasted & Salted
2 cups basil
2 garlic cloves, minced
1 teaspoon lemon juice
1/2 teaspoon lemon zest
1/4 cup grated Parmesan cheese
1/4 cup extra-virgin olive oil
saIt to taste
Method
Add Wonderful Pistachios, basil, garlic, lemon juice, lemon zest, and Parmesan cheese to a food processor. Pulse until nuts are finely chopped.
Stream olive oil through food chute and puree until smooth.
Serve immediately or store in refrigerator up to three days. Can also freeze pesto up to one month.
Quick tip
Spread about 1 teaspoon of Wonderful Pistachios Basil Pesto on slices of toasted whole grain baguette. Top with a slice of fresh mozzarella cheese, a slice of tomato, and a basil leaf.
In this recipe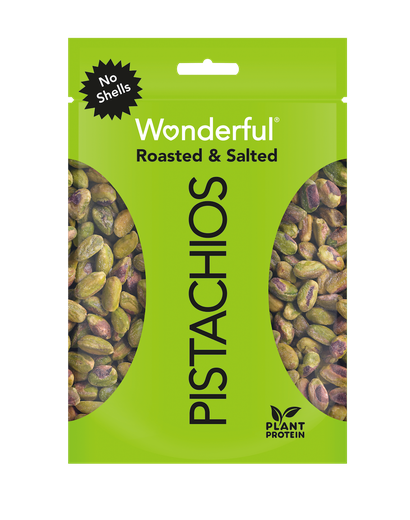 No Shells
Roasted & Salted
For a good source of plant protein without any of the work, grab a bag of No Shells. Get Snackin' TM.
Learn more
Nutrition
Serving size: 12g
Calories per serving: 45
Total Fat 4.5g
Saturated Fat .5g
Trans Fat 0g
Cholesterol 0mg
Sodium 45mg
Total Carbohydrate 1g
Dietary Fiber 0g
Total Sugars 0g
Includes 0g Added Sugars
Protein 1g
Vitamin D 0mcg
Calcium 22mg
Iron 0mg
Potassium 30mg
Dietary needs
In-store and Online
FIND PISTACHIOS
With a wide range of flavors and styles, there's a Wonderful® Pistachios product for every taste bud and occasion.