Ingredients
Gremolata:
1⁄2 cup Wonderful Pistachios No Shells Lightly Salted, chopped
2 cloves garlic, minced
3⁄4 cup flat-leaf parsley, roughly chopped
1 lemon, zested, then quartered into wedges (for serving)
Asparagus:
2 teaspoons extra-virgin olive oil
1/8 teaspoon kosher salt
1/8 teaspoon freshly cracked black pepper
1 bunch asparagus (about 1 lb.), lower stems removed and trimmed
Method
For the gremolata:
Place the Wonderful Pistachios, garlic, and parsley in the bowl of a small food processor and pulse until roughly chopped. Set aside.
For the asparagus:
Preheat the grill to medium-high heat or set a grill pan over medium-high heat. Clean and lightly oil the grates of the grill or lightly coat the grill pan with oil.
Toss the asparagus with the olive oil, salt, and pepper. Place asparagus on the grill and cook, turning twice during cooking time, until tender, about 10 minutes.
Transfer asparagus to a serving plate and garnish with gremolata and lemon wedges. Squeeze lemon over asparagus just before enjoying.
Quick tip
Advance preparation: You can prepare the gremolata an hour or two before you cook the asparagus.
In this recipe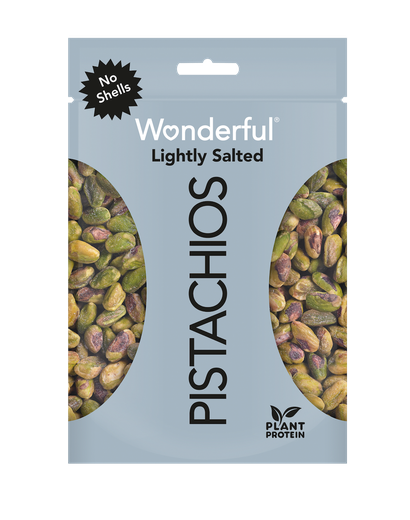 Wonderful Pistachios No Shells Lightly Salted are easy on the salt*, and even easier to enjoy.
Learn more
Nutrition
Serving size: 102g
Calories per serving: 120
Total Fat 9g
Saturated Fat 1g
Trans Fat 0g
Cholesterol 0mg
Sodium 100mg
Total Carbohydrate 9g
Dietary Fiber 3g
Total Sugars 3g
Includes 0g Added Sugars
Protein 5g
Vitamin D 0mcg
Calcium 51mg
Iron 3mg
Potassium 350mg
Dietary needs
In-store and Online
FIND PISTACHIOS
With a wide range of flavors and styles, there's a Wonderful® Pistachios product for every taste bud and occasion.