Salads
Spinach Salad with Wonderful Pistachios, Halos, Goat Cheese, and Mint
This citrus spinach salad is loaded with good stuff like pistachios, mandarin oranges, leafy greens, and herbs balanced with zing from creamy goat cheese and an apple cider vinegar dressing.
Total time

Calories*

Serves
Ingredients
1/3 cup Wonderful Pistachios No Shells Lightly Salted
5 Wonderful Halos mandarins (or 3 oranges)
2 tablespoons apple cider vinegar
2 tablespoons extra-virgin olive oil
1/4 teaspoon sea salt
1/4 teaspoon freshly ground black pepper
8 oz. fresh baby spinach
1/2 medium red onion, thinly sliced, divided
1/3 cup packed fresh mint leaves
2 oz. goat cheese, crumbled
Method
Peel the mandarins. Thinly slice crosswise into rounds
Add the vinegar, olive oil, salt, pepper, and 1/4 cup of the mandarin slices to a blender. Cover and puree.
Add the spinach, onion, and mint to a large bowl. Toss with half of the mandarin vinaigrette.
Transfer the dressed salad onto individual plates. Arrange the remaining mandarin slices on top. Sprinkle with the goat cheese and Wonderful Pistachios. Drizzle with the remaining vinaigrette or serve on the side.
Quick tip
Advance preparation: You can prepare the salad an hour or two before and simply keep it in the refrigerator until ready to serve.
In this recipe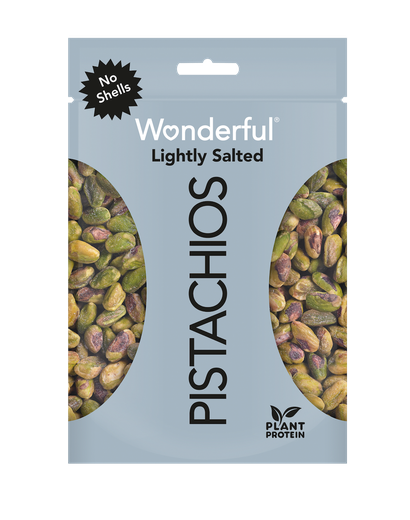 Wonderful Pistachios No Shells Lightly Salted are easy on the salt*, and even easier to enjoy.
Learn more
Nutrition
Serving size: 221g
Calories per serving: 220
Total Fat 15g
Saturated Fat 3.5g
Trans Fat 0g
Cholesterol 5mg
Sodium 280mg
Total Carbohydrate 21g
Dietary Fiber 5g
Total Sugars 13g
Includes 0g Added Sugars
Protein 7g
Vitamin D 0mcg
Calcium 136mg
Iron 3mg
Potassium 320mg
Dietary needs
In-store and Online
FIND PISTACHIOS
With a wide range of flavors and styles, there's a Wonderful® Pistachios product for every taste bud and occasion.