Ingredients
Chicken:
1/2 cup Wonderful Pistachios No Shells Lightly Salted, roughly chopped
4 6-oz. skinless, boneless chicken breasts, pounded to 1/2" thickness 1/4 teaspoon kosher salt
1/4 teaspoon freshly cracked black pepper
2 tablespoons chopped, fresh parsley
2 tablespoons chopped, fresh chives
1 garlic clove, chopped
2 tablespoons grated Parmesan cheese
Vinaigrette and Salad:
1/4 cup Wonderful Pistachios No Shells Lightly Salted, roughly chopped
2 teaspoons Dijon mustard
1 teaspoon lemon zest
1 tablespoon lemon juice
1 garlic clove, smashed and finely chopped
1/8 teaspoon kosher salt
1/8 teaspoon freshly ground black pepper
2 tablespoons avocado oil
6 cups baby lettuce
1 lemon, cut into wedges for serving
Method
For the chicken:
Preheat oven to 400˚F and line a medium baking sheet with parchment paper. Place chicken on prepared pan and season with salt and pepper.
Place the Wonderful Pistachios in a small food processor and process until mixture resembles wet sand, scraping down the sides of the bowl occasionally. Add the parsley, chives, garlic, and Parmesan cheese and pulse 10 to 12 times, until combined. Divide and spread mixture evenly over the top of each chicken breast. Bake for 15 to 18 minutes, until internal temperature reaches 165˚F.
For the vinaigrette and salad:
While the chicken bakes, make the vinaigrette and salad. Combine the mustard, lemon zest, lemon juice, garlic, salt, and pepper in a large mixing bowl. Whisk in oil. Remove and reserve 2 tablespoons of the dressing (to use later for serving). Add lettuce to the large mixing bowl and toss to combine.
Divide salad among plates or bowls. Slice the chicken and place on top of the salad. Garnish with chopped Wonderful Pistachios and a drizzle of dressing. Serve with lemon wedge.
In this recipe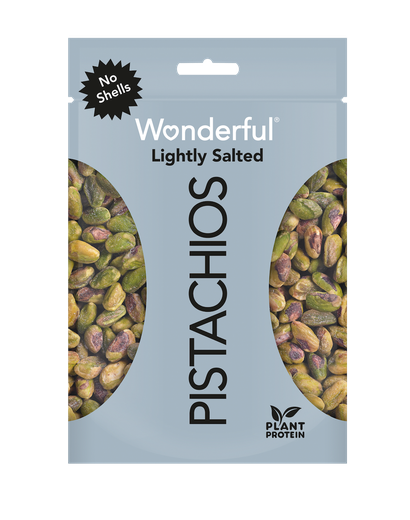 Wonderful Pistachios No Shells Lightly Salted are easy on the salt*, and even easier to enjoy.
Learn more
Nutrition
Serving size: 231g
Calories per serving: 390
Total Fat 21g
Saturated Fat 3.5g
Trans Fat 0g
Cholesterol 95mg
Sodium 440mg
Total Carbohydrate 12g
Dietary Fiber 4g
Total Sugars 2g
Includes 0g Added Sugars
Protein 41g
Vitamin D 0mcg
Calcium 118mg
Iron 6mg
Potassium 550mg
Dietary needs
Gluten-Free
In-store and Online
FIND PISTACHIOS
With a wide range of flavors and styles, there's a Wonderful® Pistachios product for every taste bud and occasion.