Ingredients
Dressing:
3 tablespoons Wonderful Pistachios No Shells Roasted & Salted, finely chopped
2 tablespoons red wine vinegar
1 teaspoon honey
2 tablespoons olive oil
Zucchini Dish:
1/2 cup Wonderful Pistachios No Shells Roasted & Salted, chopped
1 tablespoon olive oil
2 small garlic cloves, minced
3 medium zucchini, spiralized
1/2 teaspoon kosher salt
2 cups poached or rotisserie chicken, shredded
1/4 cup fresh mint, chopped
1/2 teaspoon pink peppercorns
Method
For the dressing:
Whisk together finely chopped Wonderful Pistachios with the vinegar, honey, and oil. Set aside.
For the zucchini dish:
Heat olive oil over medium-high heat in a large nonstick skillet. Add minced garlic and cook for 30 seconds.
Add spiralized zucchini, salt, and 1/4 cup Wonderful Pistachios to skillet. Sauté for 2 to 3 minutes until tender and heated through. Remove from heat, then add the chicken and dressing.
Toss zucchini, chicken, and dressing to thoroughly mix. Top with mint, peppercorns and remaining 1/4 cup Wonderful Pistachios to serve.
Quick tip
Quarter zucchini slices if you do not have a spiralizer tool at home.
In this recipe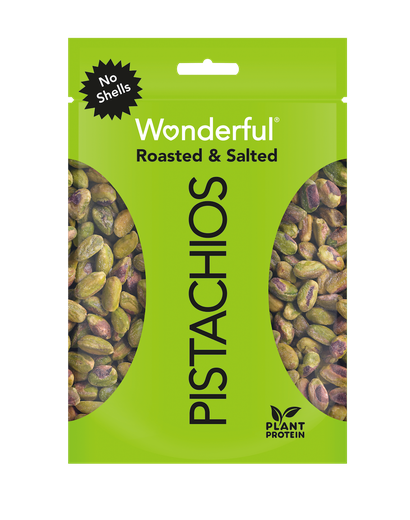 No Shells
Roasted & Salted
For a good source of plant protein without any of the work, grab a bag of No Shells. Get Snackin' TM.
Learn more
Nutrition
Serving size: 265g
Calories per serving: 370
Total Fat 25g
Saturated Fat 4g
Trans Fat 0g
Cholesterol 80mg
Sodium 410mg
Total Carbohydrate 13g
Dietary Fiber 4g
Total Sugars 6g
Includes 1g Added Sugars
Protein 27g
Vitamin D 0mcg
Calcium 62mg
Iron 2mg
Potassium 810mg
In-store and Online
FIND PISTACHIOS
With a wide range of flavors and styles, there's a Wonderful® Pistachios product for every taste bud and occasion.