Asian Cuisine
Wonderful Pistachios Mandarin Chicken and Veggie Stir-Fry
This dish is extra-flavorful, filling, and a great use for leftover veggies. The unique stir-fry sauce is made creamy with beans instead of cornstarch, and the hint of sweetness is provided by citrus juice instead of honey or other added sugars. The pistachios are a highlight as they provide distinctive color, crunch, and crave-worthiness.
Cook time

Total time

Calories*

Serves
Ingredients
1/2 cup Wonderful Pistachios No Shells Lightly Salted
1/3 cup fresh-squeezed juice from a Wonderful Halos mandarin (or orange juice)
2/3 cup canned no-salt-added cannellini beans, drained
2-1/2 tablespoons soy sauce
1 tablespoon rice vinegar
1 tablespoon freshly grated ginger root
1 tablespoon avocado oil or grapeseed oil
1 tablespoon toasted sesame oil
12 oz. boneless, skinless chicken breasts, thinly sliced crosswise
2 large red bell peppers, sliced
2 cups sliced or chopped non-starchy vegetables, such as zucchini or broccoli
3 scallions, thinly sliced, green and white parts separated
Method
Add the beans, mandarin juice, soy sauce, vinegar, and ginger to a blender. Cover and puree. Set aside.
Heat the oils in a stick-resistant wok or large deep skillet over medium-high heat. Add the chicken and stir-fry until it begins to lightly brown, about 2-1/2 to 3 minutes. Add the bell peppers, veggies, and white part of the scallions; increase heat to high, and stir-fry until the peppers and veggies are crisp-tender and chicken is well done, about 4 to 5 minutes.
Add the bean sauce, green part of the scallions, and Wonderful Pistachios and cook while stirring until heated through and evenly combined, about 1 minute.
Enjoy with a side of brown rice or buckwheat soba noodles and, if desired, hot sauce of choice.
Quick tip
Use extra canned beans by tossing them with herbs and vinaigrette to serve as a side—or simply sprinkling onto a salad.
In this recipe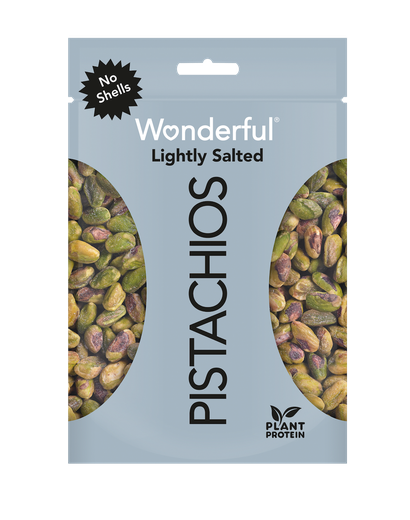 Wonderful Pistachios No Shells Lightly Salted are easy on the salt*, and even easier to enjoy.
Learn more
Nutrition
Serving size: 291g
Calories per serving: 320
Total Fat 16mg
Saturated Fat 2g
Trans Fat 0g
Cholesterol 45mg
Sodium 650mg
Total Carbohydrate 21g
Dietary Fiber 6g
Total Sugars 7g
Includes 0g Added Sugars
Protein 25g
Vitamin D 0mcg
Calcium 67mg
Iron 3mg
Potassium 770mg
In-store and Online
FIND PISTACHIOS
With a wide range of flavors and styles, there's a Wonderful® Pistachios product for every taste bud and occasion.