Ingredients
Pickled Onions:
3/4 cup distilled white vinegar
2 tablespoons fresh lime juice
1 teaspoon kosher salt
1 teaspoon granulated sugar
1 medium red onion, thinly sliced
Avocado-Pistachio Cream Slaw:
1/8 cup Wonderful Pistachios No Shells Lightly Salted
1/2 ripe avocado
1/4 cup packed fresh cilantro
2 tablespoons chopped jalapeño
1 garlic clove, smashed
1 teaspoon lime zest
2 tablespoons lime juice
2 tablespoons water
1/4 teaspoon kosher salt
2 cups shredded cabbage
1 cup shredded carrot
Pistachio and Hominy Filling:
1 cup Wonderful Pistachios No Shells Lightly Salted
2 tablespoons avocado oil
1 25-oz. can hominy, drained and rinsed
1 teaspoon ground cumin
2 teaspoons chili powder
1 tablespoon fresh lime juice
1 teaspoon fresh lime zest
1/4 teaspoon kosher salt
16 mini tortillas (street taco size, about 4-1/2"), warmed
Method
For the pickled onions:
Add the vinegar, lime juice, salt, and sugar to an 8-oz. or larger jar and stir until salt and sugar are dissolved.
Place sliced onions in a colander or strainer. Heat 2 cups of water to a boil in the microwave or over the stove. Pour over the onions. Transfer the onions to the container with the vinegar solution. Pack down using a clean, non-reactive spoon, once cooled.
For the slaw:
Combine the avocado, cilantro, jalapeño, garlic, Wonderful Pistachios, lime zest, lime juice, water and kosher salt in a small food processor or a blender and puree until smooth. Add additional water, if needed, to thin to a creamy salad dressing consistency. 2. Place the cabbage and carrot in a large mixing bowl, add the dressing and toss to combine.
For the pistachio and hominy filling:
Heat the avocado oil in a large skillet set over medium-high heat. Once hot, add the hominy and cook, stirring continuously, for 1 minute.
Add the Wonderful Pistachios and cook 1 minute more, continuing to stir. (Note: The hominy may stick slightly to the bottom of the pan and that's okay!)
Add the cumin and chili powder and cook 1 additional minute. Remove from heat and stir in lime juice, lime zest, and salt.
To assemble the tacos:
Divide pistachio mixture evenly among warmed tortillas, top with slaw, and garnish with pickled red onions.
In this recipe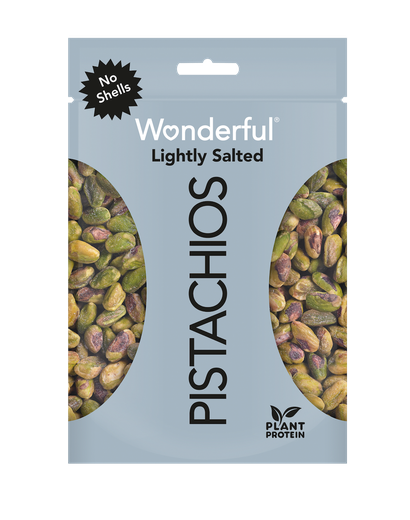 Wonderful Pistachios No Shells Lightly Salted are easy on the salt*, and even easier to enjoy.
Learn more
Nutrition
Serving size: 104g
Calories per serving: 140
Total Fat 7g
Saturated Fat 1g
Trans Fat 0g
Cholesterol 0mg
Sodium 260mg
Total Carbohydrate 17g
Dietary Fiber 3g
Total Sugars 3g
Includes 0g Added Sugars
Protein 3g
Vitamin D 0mcg
Calcium 23mg
Iron 1mg
Potassium 140mg
Dietary needs
In-store and Online
FIND PISTACHIOS
With a wide range of flavors and styles, there's a Wonderful® Pistachios product for every taste bud and occasion.