Summer Salads
Wonderful Pistachios Summer Salad with Fresh Nectarines and Arugula
This arugula nectarine salad with Wonderful Pistachios and thyme dressing is both gorgeous and delicious. The fresh colors and flavors will definitely brighten up your menu!
Cook time

Total time

Calories*

Serves
Ingredients
Salad:
3/4 cup Wonderful Pistachios No Shells Roasted & Salted, coarsely chopped
3/4 cup farro
1 cup low-sodium chicken or vegetable broth
1 cup water
4 cups chopped arugula
1 firm ripe nectarine, chopped
3 scallions, white and green parts, sliced
4 oz. crumbled feta cheese
Dressing:
1/4 cup extra-virgin olive oil
juice from 1 lemon
2 teaspoons chopped fresh thyme
1/4 teaspoon sea salt
1/4 teaspoon freshly ground black pepper
Method
In a pan, combine the farro, broth, and water. Bring to a boil, reduce the heat to simmer, cover, and cook for 25 minutes, until the farro is tender. Drain and rinse with cold water.
In a large bowl, toss the cooled farro, arugula, nectarine, and scallions.
In a small bowl, whisk the olive oil, lemon juice, thyme, salt, and pepper. Pour over the salad and toss to coat.
In a dry skillet, toast the Wonderful Pistachios over medium heat for 1 minute. Stir into the salad. Sprinkle the feta cheese over top before serving.
Quick tip
Advance preparation: You can prepare the salad an hour or two before and simply keep it in the refrigerator until ready to serve.
In this recipe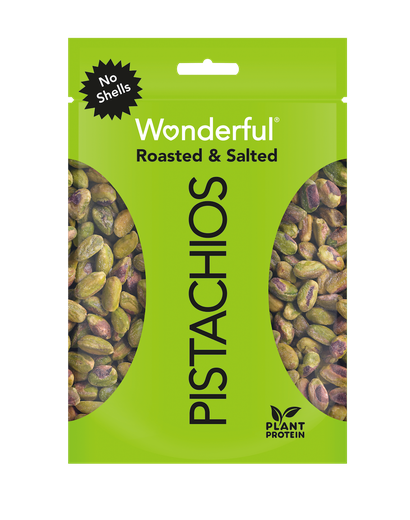 No Shells
Roasted & Salted
For a good source of plant protein without any of the work, grab a bag of No Shells. Get Snackin' TM.
Learn more
Nutrition
Serving size: 207g
Calories per serving: 320
Total Fat 22g
Saturated Fat 5g
Trans Fat 0g
Cholesterol 15mg
Sodium 390mg
Total Carbohydrate 25g
Dietary Fiber 4g
Total Sugars 5g
Includes 0g Added Sugars
Protein 10g
Vitamin D 0mcg
Calcium 172mg
Iron 2mg
Potassium 340mg
Dietary needs
In-store and Online
FIND PISTACHIOS
With a wide range of flavors and styles, there's a Wonderful® Pistachios product for every taste bud and occasion.