Soups
Pumpkin Soup with Moroccan-Spiced Wonderful Pistachios
Moroccan roasted pumpkin soup is everything that you want a good soup to be. It's filling, delicious, super-hearty and perfect for fall. The sweetness of cinnamon-roasted pumpkin is further enhanced by savory pistachios and fresh pomegranate—this is a bowl of bliss.
Cook time

Total time

Calories*

Serves
Ingredients
1-1/2 cups Wonderful Pistachios No Shells Roasted & Salted
1/4 cup POM Wonderful Pomegranate Fresh Arils
1 tablespoon olive oil
2 medium onions, chopped (2-1/2 cups)
6-1/2 cups butternut squash, peeled and chopped (each squash about 2-1/4 lbs.)
1/8 teaspoon ground cloves
1/8 teaspoon group allspice
1/8 teaspoon cayenne
1/2 teaspoon ground cinnamon
1/2 teaspoon ground coriander
3/4 teaspoon ground cumin
3/4 teaspoon ground ginger
1/2 teaspoon kosher salt
1/8 teaspoon cracked black pepper
4 cups low-sodium chicken or vegetable broth
2 tablespoons honey
Method
Heat olive oil in a large pot over medium-high heat and add chopped onions. Sauté for about 5 minutes until translucent. Add squash and 1/2 cup of Wonderful Pistachios, then sauté for another 5 minutes.
Combine all the spices, salt, and pepper in a small bowl for spice mixture. Set aside.
Stir 2 teaspoons of spice mixture into the squash and onions, and cook for 3 minutes. Add chicken or vegetable broth to the pot and bring to a simmer. Cover and cook for about 20 minutes until squash is tender.
Stir 1 teaspoon of the spice mixture and honey in a small pan over medium-high heat. Cook for about 1 minute until honey is foamy, then stir in 1 cup Wonderful Pistachios to coat the nuts. Spread coated pistachios on a parchment-lined sheet pan to cool.
Transfer soup to a blender and blend until very smooth. Serve soup immediately topped with the spiced Wonderful Pistachios and POM Wonderful Pomegranate Fresh Arils. Return soup to the pot to keep warm unless serving immediately.
In this recipe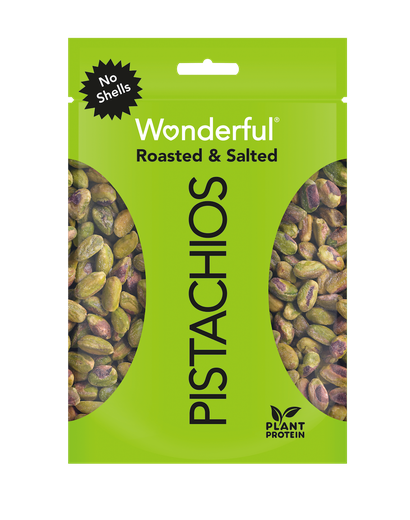 No Shells
Roasted & Salted
For a good source of plant protein without any of the work, grab a bag of No Shells. Get Snackin' TM.
Learn more
Nutrition
Serving size: 283g
Calories per serving: 230
Total Fat 12g
Saturated Fat 1.5g
Trans Fat 0g
Cholesterol 0mg
Sodium 230mg
Total Carbohydrate 28g
Dietary Fiber 5g
Total Sugars 10g
Includes 4g Added Sugars
Protein 8g
Vitamin D 0mcg
Calcium 89mg
Iron 2mg
Potassium 730mg
Dietary needs
In-store and Online
FIND PISTACHIOS
With a wide range of flavors and styles, there's a Wonderful® Pistachios product for every taste bud and occasion.