Savory Recipes
Savory Oatmeal with Wonderful Pistachios, Kale, Grape Tomatoes, and Feta
Oatmeal doesn't have to be served up sweet! This easy savory version is flavorful, colorful, and all-day breakfast-friendly. Plus, the finishing touch of pistachios provides crunchy balance, healthful richness, and extra pops of fiber and complete protein.
Cook time

Total time

Calories*

Serves
Ingredients
1/2 cup Wonderful Pistachios No Shells Lightly Salted
5 cups low-sodium vegetable broth
1/4 teaspoon dried hot pepper flakes
2 cups old-fashioned whole grain rolled oats
1-1/4 cups quartered grape tomatoes
2 5-oz. packages fresh baby kale
1 tablespoon grated lemon zest, divided
1/2 teaspoon sea salt
1/4 cup crumbled feta cheese
1 lemon, cut into wedges for serving (optional)
Method
In a large saucepan, bring the vegetable broth and hot pepper flakes to a boil over high heat. Reduce heat to medium, add the oats and grape tomatoes, and stir occasionally until just cooked through, about 5 minutes. Add the kale, 1-1/2 teaspoons of the lemon zest, and salt; stir until the kale is fully wilted, about 1 minute. Adjust seasoning.
Transfer to bowls and sprinkle with the Wonderful Pistachios, feta cheese, and remaining 1-1/2 teaspoons lemon zest. If desired, serve with lemon wedges on the side.
In this recipe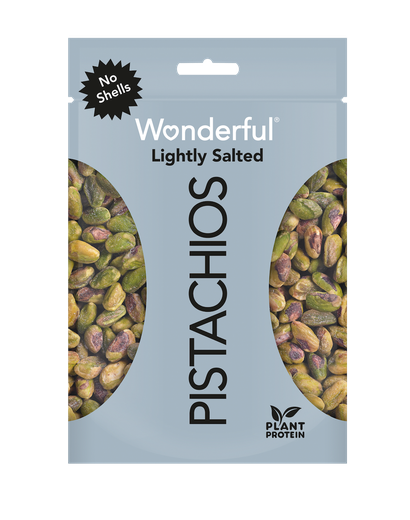 Wonderful Pistachios No Shells Lightly Salted are easy on the salt*, and even easier to enjoy.
Learn more
Nutrition
Serving size: 528g
Calories per serving: 300
Total Fat 12g
Saturated Fat 3g
Trans Fat 0g
Cholesterol 10mg
Sodium 620mg
Total Carbohydrate 44g
Dietary Fiber 9g
Total Sugars 6g
Includes 1g Added Sugars
Protein 13g
Vitamin D 0mcg
Calcium 344mg
Iron 3mg
Potassium 650mg
Dietary needs
In-store and Online
FIND PISTACHIOS
With a wide range of flavors and styles, there's a Wonderful® Pistachios product for every taste bud and occasion.