Main Entrée
Wonderful Pistachios Sea Salt and Pepper Pistachio Cacio e Pepe
Try this twist on your favorite classic pasta dish! Flavorful pistachios make this Cacio e Pepe extra creamy and rich, with a pop of color and crunch on top for flare. This dish is sure to deliver at your next dinner party!
Cook time

Total time

Calories*

Serves
Ingredients
Pistachio Topping:
¼ cup Wonderful Sea Salt & Pepper Pistachios, crushed
2 tablespoons chopped flat-leaf parsley
2 tablespoons chopped basil
Pistachio Cacio e Pepe
½ pound spaghetti
2 ounces (⅓ cup) Wonderful Sea Salt & Pepper Pistachios
1½ ounces (⅓ cup) grated Pecorino Romano cheese
1½ ounces (⅓ cup) grated Parmesan cheese
1 teaspoon ground black pepper, plus more for garnish
2 tablespoons unsalted butter
Method
For the topping: in a bowl mix together the crushed pistachios, parsley and basil and set aside.
For the pasta: Heat a large pot of very salty water to a boil and add the pasta. Boil until al dente, or tender, about 12 minutes. Reserve 1 cup of the pasta water and drain pasta.
Meanwhile, in the bowl of a food processor combine the pistachios, Pecorino Romano, Parmesan, and pepper. Blend until pistachios are finely ground. Add the butter and pulse until the mixture is just crumbly.
Once pasta is drained add ⅔ cup of the reserved hot pasta water to the food processor while the motor is running to create a creamy sauce. Pour the drained pasta and the sauce back into the pasta pot and stir to combine. Add more pasta water if needed to create a thin, creamy coating on the pasta.
Serve immediately topped with some of the pistachio topping.
In this recipe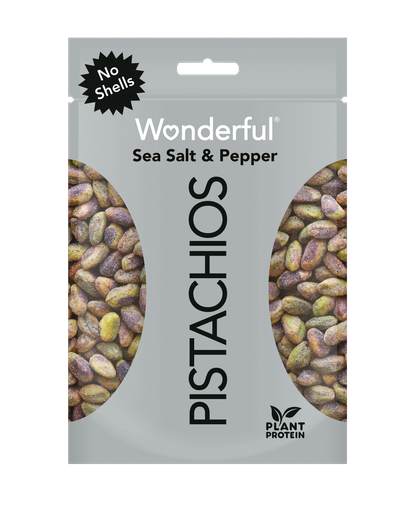 No Shells
Sea Salt & Pepper
For an extra little kick of nutty goodness without any of the work, grab a bag of No Shells Sea Salt & Pepper pistachios. Get Snackin'™.
Learn more
Nutrition
Serving size: 113g
Calories per serving: 472
Total Fat 22g
Saturated Fat 8g
Trans Fat 0g
Cholesterol 0mg
Sodium 319mg
Total Carbohydrate 51g
Dietary Fiber 4g
Total Sugars 3g
Includes 0g Added Sugars
Protein 19g
Vitamin D 0mcg
Calcium 250mg
Iron 2mg
Potassium 402mg
Dietary needs
Vegetarian
In-store and Online
FIND PISTACHIOS
With a wide range of flavors and styles, there's a Wonderful® Pistachios product for every taste bud and occasion.